Have you seen A&E's Storage Wars yet?   If you haven't, quickly find a TV, turn it to A&E and and chances are you'll find yourself in the third hour of a Storage Wars marathon. I am fairly positive A&E's entire schedule is just alternating marathons of Storage Wars, Hoarders and Billy the Exterminator so if you see one of those other shows instead of Storage Wars just check back 2-6 hours later.
Storage Wars follows the story of auction bidders as they attempt to win the contents of unpaid storage units in hopes of turning the other people's mysterious processions into cash.  Sometimes they find rare and expensive antiques, sometimes they find some dude's old, run-down bachelor furniture and sometimes they even find straight-up cash, which just brings up a whole lot of questions about the people who filled the units initially.  This American Life chronicled the storage unit auction phenomenon in episode #399 Contents Unknown, if you want more background on the subject or simply can't get enough Ira Glass.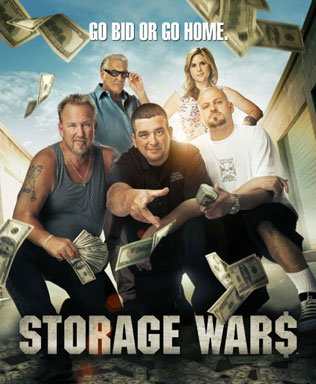 It makes sense that the Hoarders network would expand into the storage unit business.  Excess storage units are often an aspect of hoarding and several times units featured on Storage Wars appear to be collections that formerly belonged to some poor hoarder who ran out of floor space (the floor is the biggest shelf after all) on which to stack their various trinkets, newspapers, Christmas decorations and jars of old food, so they took it all across town and shoved it into a locker.  Come to think of it, Billy the Exterminator could fit within an all-hoarding and hoarding related television too, because from what I've seen nearly every hoarder house is full of rodents and occasionally opossums (EEK). Maybe A&E will expand their all-Hoarders-related content block to include shows about people who clean up other people's messes and/or pick through the giant trucks of discarded Hoarder treasure – kind of a more depressing version of American Pickers.
The cast of Storage Wars is relatively small. You have your auctioneers, Dan and Laura Dotson, who sell the units and talk real fast.  Darrell Sheets who A&E calls "The Gambler" and who, despite this moniker, seems to go home empty-handed about 40% of the time.  Jarrod and Brandy, a couple who run a second-hand store and really only seem to be in competition to rub each other's noses in failure.   Dave Hester runs a much bigger store and seems to spend the most and consequently finds the biggest money-making deals.  He annoys the crap out of his competition so they are always trying (mostly unsuccessfully) to mess with him.  Then there is "Hollywood" Barry Weiss.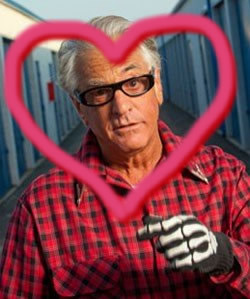 I LOVE Hollywood Barry.  Barry loves finding treasure, goofing on his competitors and making quips.  I wish he was my awesome uncle who I got to visit once a year and look at his cool stuff.  I imagine his house is full of treasures and if you were to visit he would take you on a tour and probably give you something cool if he liked you enough.  I am not entirely sure he isn't Robert Evans (or at least some distant relative of Robert Evans who shares the same voice genes).
I suspect Hollywood Barry and J.J. Abrams could talk for several hours about their love of mystery boxes.  Barry will spend hundreds of dollars on seemingly uninteresting storage units so he can look inside the chests and boxes he sees inside.  Sometimes he finds antiques and sometimes he finds a solitary glove, but it is all about opening the box.  As long as he gets to do that, it seems he's won, which is a worldview I wish I could have more often.  Even when he does find something of value, Barry often gives his find away to someone who'd appreciate it more.  When he doesn't know if he's found a treasure,  Barry takes it to get the price evaluated by an expert.  If that expert is a pretty lady you can guarantee Barry will be ok with not getting a high price estimate on his find, because now he knows one more lovely lady and that counts as a win. Oh also, his custom Cadillac was used in an Outkast's "Roses" video.
Here is an overview of what awesomeness Hollywood Barry brings to television courtesy of an AOL interview:
AOL: We've seen you use a psychic, a little person on stilts, night vision goggles and your pal Patch's one good eye to try to get a better idea of what's in the storage units. Any other imaginative Barry methods we'll see this season?

Barry: Oh yeah. We're going to expand it a little bit this year, and I got a bunch of good stuff cooked up. And I can't wait, because my mission, really, on that show, is to disrupt and annoy. And I'm going to continue to refine that. But, really, unnerving my competitors is something that I get the most kick from.
Essentially Hollywood Barry is the chillest dude on television and watching him win storage units should be added to everyone's very important TV schedule.
Knowing A&E programming, you have roughly 1,854 opportunities to do so every week.  Get on it.