Hello! I'm Becca Sayre, a multimedia designer specializing in web design, front end development, video editing and motion graphics.
A custom flier illustration for an open dialog event in Missoula.
A responsive site, featuring over 600 WWII propaganda posters grouped by category and type.
Glacier Country got a site refresh – I did the front-end development.
A short film completed in 72 hours.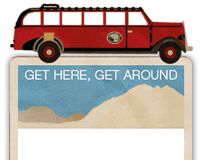 A little section-specific "pop" for Glacier Country.
The United We Will Win website I built for The Historical Museum at Fort Missoula won an award! From the Missoulian (Recognition section): The Mountain-Plains Museums Association announced that the …
Community is even back on the air now! And last night's was even a pitch-perfect Law & Order themed episode. It is like they were reading my (very extensive) dream …
I have never been as upset about television as I was yesterday afternoon. A news item blasted round the twitters and tumblrs notified me that my favorite show was going …